Dog Days has now launch their breed play dates and we are ready to paw-ty!!
We know dogs love nothing more than playing with their own breeds, so we have created the ultimate play date. 
Join us for 75 minutes of fun including a treat bag for your pooch. Sessions run from 9.30am – 10.45am and 11.45am – 1pm.
Indoor and outdoor space is available for all weather conditions with games and enrichment activities.
Play Dates are available Saturday and Sunday and we recommend pre-booking to ensure your space. 
| | | |
| --- | --- | --- |
| Date | Breed  | Time |
| 18th November 2023 | Miniature Schnauzers | 9.30am – 10.45am |
|   |   | 11.30am – 1pm |
| 25th November 2023 | Cockapoos | 9.30am – 10.45am |
|   |   | 11.30am – 1pm |
| 26th November 2023 | Cockapoos | 9.30am – 10.45am |
|   |   | 11.30am – 1pm |
| 2nd December 2023  | Labradors  | 9.30am – 10.45am |
|   |   | 11.30am – 1pm |
| 3rd December 2023  | Golden Retrievers | 9.30am – 10.45am |
|   |   | 11.30am – 1pm |
| 16th December 2023 | French Bulldogs  | 9.30am – 10.45am |
|   |   | 11.30am – 1pm |
| 17th December 2023 | Spaniels  | 9.30am – 10.45am |
|   |   | 11.30am – 1pm |
The shenanigans during play dates are the responsibility of the owners. This means keeping a close eye on your dog to ensure they are on their best behaviour and playing nicely with their new friends. Dog's will be dogs however safety is our priority. 
Neutering Yes, we require all dogs to be neutered over the age of 12 months to attend our playdates.
Vaccinations All dogs must show proof of vaccinations on their first visit.
Poopin 'n' Scoopin Many dogs love to eat poop as yucky as it sounds. This why it's so important to be picking up all poops immediately. Mops and poo bags will be available.

No Bullies Bullying won't be tolerated and owners should be vigilant with their own dogs play to ensure everyone is having fun, If you aren't sure, please speak with a member of the team and they can help identify good and bad play.

Friendly Dogs Only We only accept friendly, well socialised dogs. Not every dog loves socialising with multiple dogs at one time and this can change their temperament. Please make sure your dog will love the experience before booking.
Over 12's Only In the interest of keeping everyone safe, we only allow children over the age of 12 to attend our play dates. Children must also be accompanied by an adult.
Tag your pooch It's important your dog has a name tag on when attending our play dates. These should be attached to a quick release collar.

Pre-Booking We only accept dogs who have booked in advance. We have limited spaces available so be sure to book as soon as tickets are released. Tickets are only required for the dogs so please don't book tickets for your humans.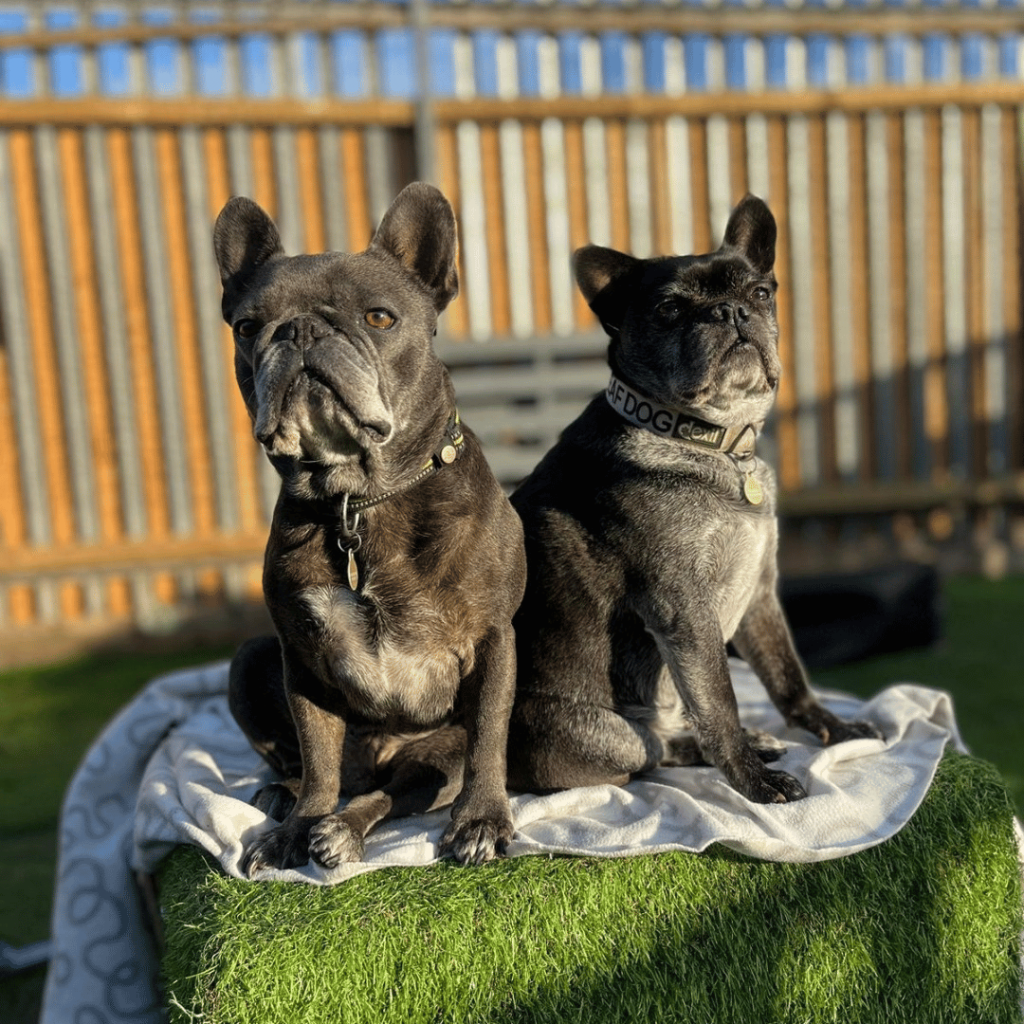 Let your pooch hang our with other likeminded pups of the exact same breed. When dogs play with their same breed, it seems like a match made in heaven and often it's love at first sight. Our play dates allow your dog to find their perfect match.
I cannot recommend Dog Days enough. We brought our very nervous puppy to Robin and the team two months ago. They were consistently patient and empathetic with her many (and sometimes confusing) anxieties. With their support, she is now growing into a confident, happy puppy with excellent doggy manners. I know I can trust that on her day care days she's safe and having fun, making those breaks from her unending energy a lot more enjoyable for me too!! If you're a bit nervous about trying day care, just pop in to meet the team and you'll be at ease in a moment.
Take A Tour
See What a Day of Camp is like from a
Dog's Perspective
Help A Pet
Support the health and happiness of our four-legged
friends to keep them in their forever homes.
Got A Question
Easy Ways To Get In Touch With Us